There are so many products and services in the market, with so much content communicating with us. Do you remember all of them? No right! But few stay in your mind. That's because all don't have successful branding; brands that create their own distinct brand identity in customers' minds will go a long way.
We always hear people talking a lot about branding, and as businessmen, we even accept its vital role in today's era. But we fail to execute it; many small brands, start-ups, and even traditional seasoned brands ignore manage branding in their business.

Today Designer People will discuss some critical branding statistics, which will give you a hint of reality in the market.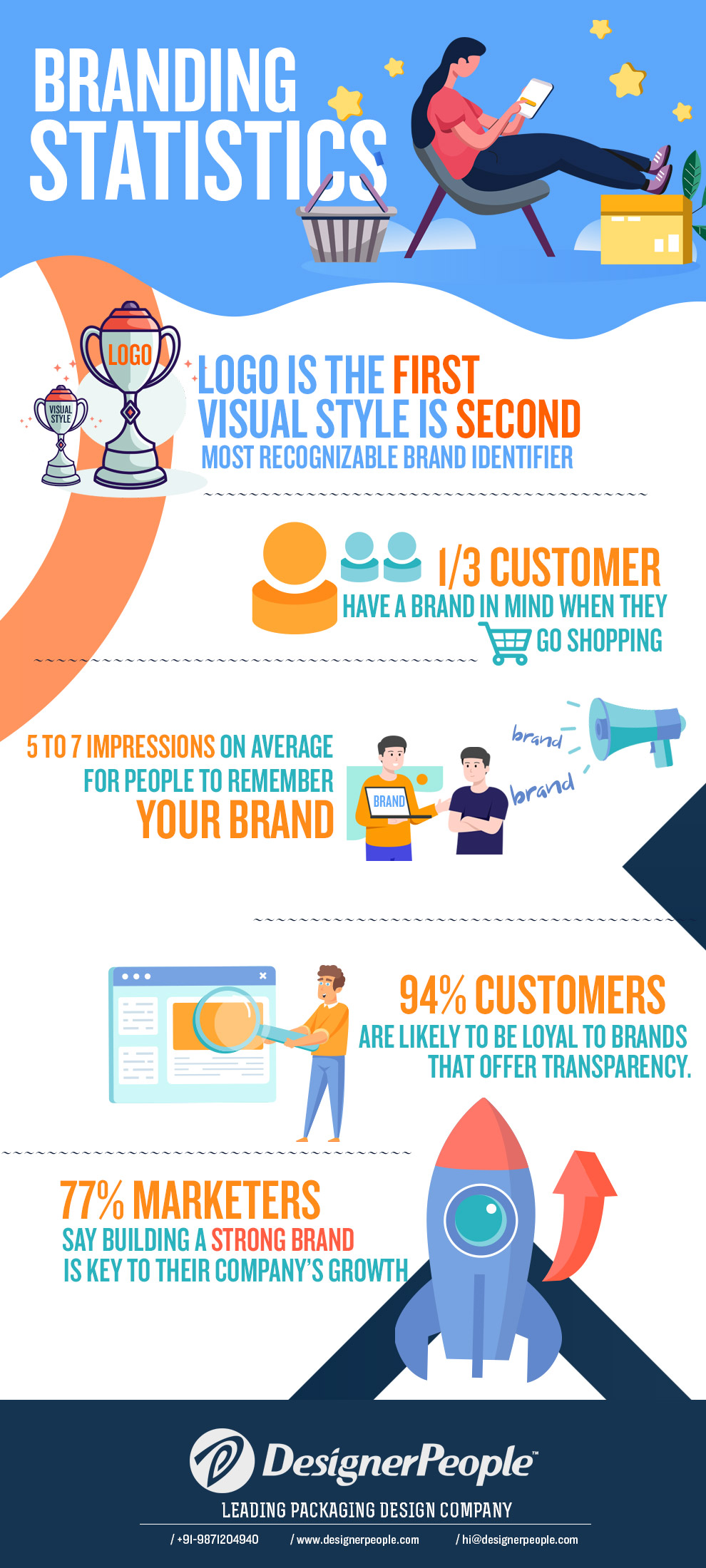 1. Logo is the #1 most recognizable brand identifier, followed by the visual style.
A brand logo's overall visual identity can either make or break a brand in a target customer's eyes. When it is about a recognizable icon for your company or organization, that will be immediately identifiable.
(Source: Render forest)


2. ⅓ of customers have a brand in mind when they go shopping.
Trust acts as strong purchase consideration for the vast majority of respondents, and they plan in their mind about what to purchase when they visit the store. It can be through various geographies, age groups, gender and income levels. Brands can build trust by discussing with consumers through multiple platforms and voices, not with advertising alone. Make sure you be present for them through various portals so that you don't miss them out.
(Source: Render forest)


3. It takes 5 to 7 impressions on average for people to remember your brand.
Consistency is key to leading a memorable brand in the minds of customers. Your employees, staff, customers and everyone should be living your brand every day. They should have clarity on your brand objective, what your brand promise and how they can contribute and act as a positive part of your brand story regularly.
Social media branding provides opportunities to get a consistent yet dynamic in front of hundreds and thousands of people every day.
Source: (Pam Moore)

4. 82% of investors want the companies they invest in to have a strong brand.
Investors focus on the company as a whole before investing, not just its product or services but as a brand. A brand requires to be bigger than a product. Companies need depth that goes beyond a focus on one product or one solution. Hence so many percentages of investors brand need to rethink if it needs to rebrand its image through a professional branding agency.
(Source: big presence)


5. 94% of customers are likely to be loyal to brands that offer transparency.
Brand transparency and trust are two essential components of building a successful brand. It's all about trust, and without which one can never be able to convince your target audience to select your product over a competitor. If there is no brand transparency, your customers won't take the risk by giving a foreign company the benefit of the doubt.
Brand transparency will boost your profits in several ways. It makes it easy for you to convert into new leads, but it also means that your existing customers and clients will stay with you for much longer too!
(Source: Zimmer communications)

6. 75% of companies say building brand awareness is one of their top priorities.
Increased brand awareness allows a range of benefits, including increased traffic, brand advocates and possibly more sales. Audiences need to understand, recall, and become comfortable with your branding and products. Customers already identify your brand; they will be more likely to buy from your business than, say, a competitor's business with which they're not as familiar.
(Source: Render forest)


7. 77% of B2B marketers say building a strong brand is key to their company's growth.
Whatever your target consumers or type of businesses may be, the branding helps companies grow drastically. Around 80% of B2B marketers agree that their companies couldn't expand and develop without it.
(Source: Circe Research)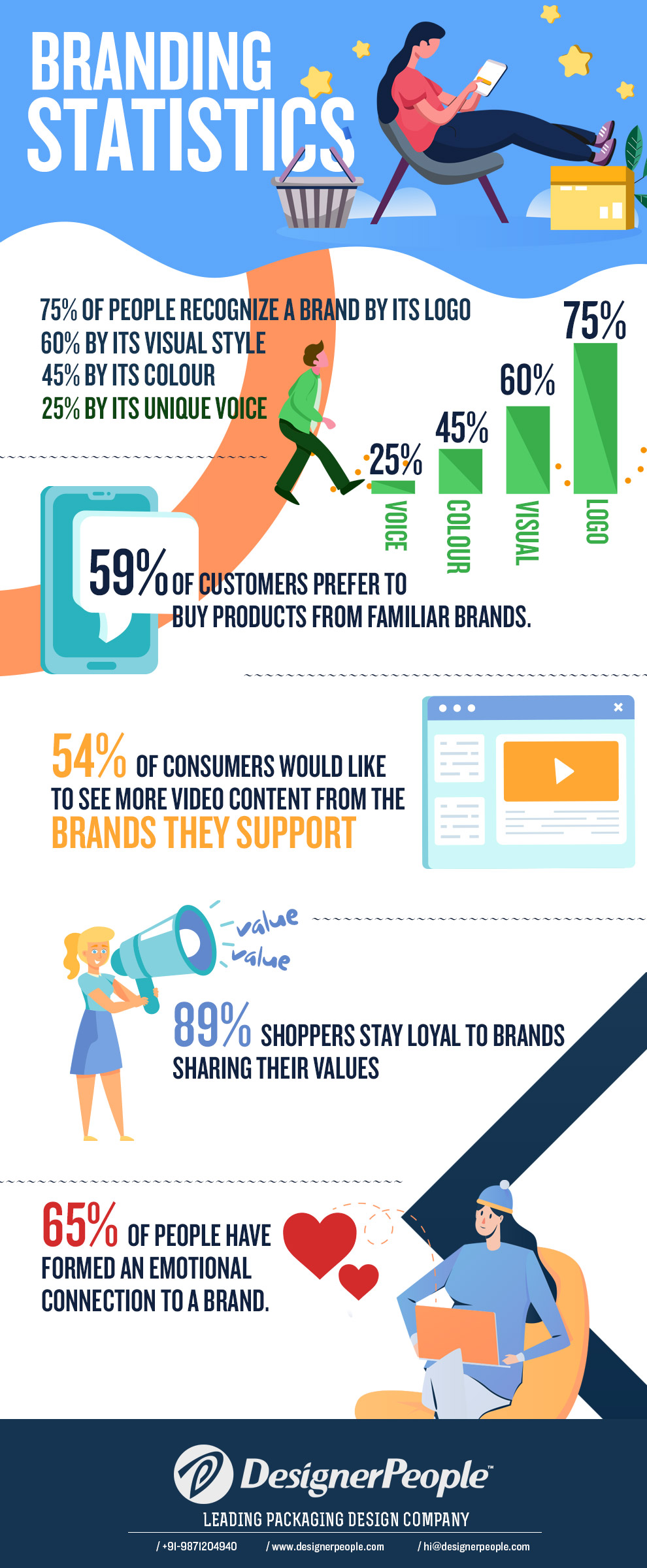 8. 75% of people recognize a brand by its logo, 60% by its visual style, 45% by its signature color, and 25% by its unique voice.
The majority of brands identify logos easily because of their consistency displayed.
Start-ups might assume they don't require to be consistent with their identity which. People identify businesses based on their brand identity.
Brand identity such as tone, shade, style and design takes disparate visual elements and unifies them into a complementary identity system. They should be consistent in their appearance, use, scope, color palette, feel, etc.
(Source: Render forest)

9. 70% of brand managers find audience building more important than converting sales.
Brand success isn't always measured in direct sales or profit measures. The point of brand marketing is to build a following and establish trust. Over time, this potential audience will convert into customers, but only after establishing trust with your brand. Over the years, marketers have focused on building audiences as the go-to method for closing sales and converting visitors into customers.
(Source: Bynder)


10. 59% of customers prefer to buy products from familiar brands.
It takes years for brands to build their identity and image in customers' minds, but once successful branding is done, there is no way back. People don't like to take the risk. They believe in their existing purchases and their quality assurance. On that basis, they feel safe to buy products from familiar brands.
(Source: Invesp)


11. 13% of consumers will pay 31-50% more if they feel your business is positively impacting the world.
Brand impressions matter for long-term brand identity, But one has to capitalize on promoting the brand values consumers view as upstanding. When a company cares about the community, environment, and goodness towards society, consumers don't mind paying more for its products or services, in some cases up to 50% more.
(Source: Customer Thermometer)

12. 54% of consumers would like to see more video content from the brands they support.
Videos are a consumers' favorite type of content to see from a brand on social media. Consumers expect more video content. About 88% of video marketers are satisfied with the ROI of their video marketing efforts on social media.
The narrative of video content ensures to inspire loyalty between the brand and its audience. When consumers enjoy your video content, they build more trust by showing support to the brand.

13. 89% of shoppers stay loyal to brands sharing their values.
Consumers are happy to reward or punish based on brand values and company actions. They feel more comfortable if their brand is sharing their values. Also, they stay loyal to them. A sense of belongingness is created that influences the purchasing behavior of customers.
Brands that are welcoming consumers to join them in action are rewarded with more conversations, new buyers, and greater customer loyalty.
(Source: Fundera)

14. 77% of customers refer to specific products by a brand name.
Customers nowadays do not buy products or services. They invest in a Brand. Many shoppers are incredibly loyal to their beloved brands, from having good experiences to want to portray a particular brand image. Recognized brand names typically have shown consistency in product quality that has contributed to the brand's evolution. Often, consumers rely on prior experiences or public word-of-mouth when selecting brands.
(Source: Crowd spring)

15. Over 65% of people have formed an emotional connection to a brand.
The brand with more robust bonds with their consumers scored higher on this emotional quotient wise. Brands that have cultivated emotional connection with their consumers have shown a clear financial edge over those who don't. Emotions influence purchase decisions. Employing emotional science drives consumer's willingness to buy your product or use your service.
(Source: Render forest)

CONCLUSION
Now that you have gone through the above branding statistics, we hope you have a glimpse of the necessary steps.
A brand is a story and a feeling. A perception of what your business shapes it to be. Everyone must be on the same page about your branding strategy; you can go out and spread the word unanimously.
Connect Creative Website Studios Designer People to now more unknown facts about branding and how you can include it in your brand building plan.
The post 15+ Branding Statistics every business owner should know for 2021 appeared first on designer people.